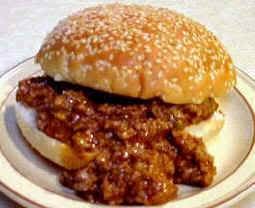 I just wanted to share with you a recipe that is a crowd pleaser, a sneaky way to get some veggies in a picky eater, and a frugal meal. I originally posted this back in 2011 and the cost of food has gone up....sadly but expected. So I posted today's cost next to the old 2011 costs. Neat to see what has really increased.
During the summer months between our garden and our neighbor's I get plenty of zucchini and bell peppers. I shred the zucchini for zucchini bread and Sloppy Joes. I cut the bell peppers into slices so I can use them in fajitas or chop them up frozen and slip them into the Sloppy Joes.
You can sneak almost any kind of veggie in here, spinach would be easy too, and celery is tasty in this recipe also. Chop it up into tiny pieces and they will only enjoy the flavor!
Ground Beef (about 1 ½ pounds) $2.99 (if you buy @ $1.99 lb.)
(Now $3.67 per lb.)
1 large onion ($.17 price of 3 lb. bag of onions for $.99)
(Now a bag is $1.99)
2 cups shredded frozen zucchini that is thawed and drained. (Free! You
could use any veggies like carrots, tomatoes, all squash you name it!)
(still Free from Garden)
1/2 - to a 1/4 of chopped green pepper
1 cup of ketchup $.25 (You can make this cheaper if you get your
Ketchup on sale with coupon or make your own.)
1 tablespoon of Worcestershire sauce $.02 (depending on the cost of
your bottle.)
¼ cup water
1-2 tablespoons of brown sugar.
Salt and Pepper to taste
8 pack Hamburger Buns $.39 (I buy off day old bread rack)
(day old was $.87)
8 slices of Cheese $.33 (If you get a 24 pack of sliced cheese for $.99)
(now 2.99)
Total $4.15, 8 servings $.52 per serving!
Directions:
In a big skillet (about 10 inches) cook hamburger, onion and veggies over medium heat until brown, and then drain. Stir in ketchup, Worcestershire sauce, water, sugar and salt and pepper. (If too dry add some more ketchup or tomato sauce and more water.) Simmer about 10 more minutes uncovered.
Serve on buns topped with a slice of cheese. This works great with homemade French fries and another vegetable like corn or green beans.
Even if you get something for a bit more than I paid for it, you still have a very frugal meal. A meal that is good for your family and also a tasty one they will love.
This is really too easy to make, and I don't know why anyone would buy the can mix. Save your Green make your own. Also this homemade recipe will be so much more healthy for you and your family! Mix it up, make it with ground turkey, use organic veggies and ketchup with no high fructose corn syrup, if your family hates onions chop them finer, or use onion powder!
What are your recipes for Sloppy Joes? I would love to hear about other versions!
Tip:
If you only need four servings still make the full recipe, and freeze the meat for two weeks from now. Now you have a ready to eat meal in the freezer ready to go for those busy nights when Parent teacher conferences, soccer practice and working late all combine to make a hectic night where you might consider fast food. (I almost typed you might consider those only 4% beef tacos at your favorite Taco Joint...hee hee!)